First up was 598 Angell St., Lovecraft's second home. Because Angell St. is one way (the wrong way), you have to take Waterman St. down to Butler Ave. and then park near where it hits Angell. (Donovan Loucks informs me: "East of Butler, Angell is a two-way street, so you could have driven right up to the house if you'd wanted.") The front of the house is largely obscured by trees, but you can make out a beige dwelling with brown trim, several gables in the roof and a "bay window" type of protuberance in the front. The neighborhood is a quiet, shady area and seems like it would be a pleasant place to live.
Phillips Family Plot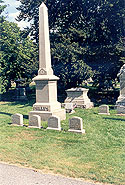 I took Butler north to Blackstone and continued up it to Swan Point Cemetery, whose entrance is bordered by stone walls. It is by far the largest cemetery I visited, a vast and rambling green expanse shaded by fine old trees and populated by monuments of every conceivable shape and size. A network of narrow paved roads confirms the impression that you have entered a veritable city of the dead. Eckhardt's pamphlet includes a map of these roads, but it is difficult to relate his map to the things you see, partly because many of the intersections have no signs, or else a sign that names only one of the roads that meet there. Still, I was able to find the Phillips family plot, which has a tall, obelisk-topped marker as its centerpiece. On the back of the family marker some unauthorized person has written
That is not dead which can eternal lie
And with strange eons even death may die
Lovecraft's own grave is located behind, and is marked by a small stone with his name, dates, and the motto "I am Providence." On the day I visited, a red rose lay in front of his marker, and a miniature small American flag stood beside it. Someone had left a letter to him on yellow notebook paper. I was tacky enough to read it, and was struck by the affectionate feelings it evidenced.
Here was a man convinced, as few have been, of the temporary and accidental nature of our existence, of the fact that we exist only for the briefest of moments in a vast and indifferent universe that will take no note of our coming or going. It is intriguing to realize that such a person can inspire reverence, and even the desire to communicate with him beyond the grave. Yet from another point of view, it is perfectly understandable and expresses the very longing to transcend time that was such a keynote of Lovecraft's character.
There is a lot to be said for old New England cemeteries. Though you might expect a visit to be morbid or even depressing, it has quite an opposite effect. How many people do you meet on an average day who are absolutely at peace? These ancient resting places are the quintessence of the message breathed out by all the antiquities of New England: that many have come and gone before us, each as real, vivid, full of feeling as ourselves, and have long since ceased to exist, as we will too in a short while. Individuals do not endure, but something surely does; the past lives on as the foundation of our present, and lingers onward still to echo in unimaginable futures. To feel this vividly is to experience the "adventurous expectancy" that Lovecraft spoke of, the dim and partial apprehension of some inconceivable quality that transcends our human limitations.
After the cemetery, I stopped at a nearby collegiate-style eatery where the Cowboy Junkies were playing in the background, and copies of the New Yorker were strewn about for reading material. I decided to visit Other Worlds, a bookstore mentioned by Loucks. It is an exceedingly fine store for people of our taste, featuring mostly used or rare mysteries and science fiction / horror. They also have a good many small-press Lovecraftian publications in stock. It was strange to discover that the store has at least four names, being listed in the Yellow Pages as Other Worlds, but posted on the sign outside as Book Store, whereas the mystery portion is described on the owner's card as Murder by the Book and the cashier asked me to make the check out simply to By the Book. On seeing my out-of-state check, he also gave me an interesting lecture on Rhode Island's unique approach to people who write bad checks. Apparently the store owner simply calls the police, at which point they go directly to the person's house, arrest them and put them in jail. The cashier assured me that they were happy to issue arrest warrants out of state as well. His confidence was touching.
Beckwith's book has additional tours I could have taken within Providence, but as I did not have access to his book on my trip, I decided to head back to Boston and see if I could fit in a short tour of the North End before sunset. Big mistake.